Looking for fun events and activities? Here is a list of upcoming events and happenings in San Diego!
Poway Winter Festival
January 12th
Join us for Winter Festival! Whether you're building a snowman, sledding down the snow hill, roasting marshmallows by the campfire, making silly faces in our free photo booth, or taking a spin around the synthetic skate rink; there is bound to be something for everyone! Click here for more information.
Kids Marathon Mile at Legoland
January 13th
Though created for kids ages 12 and under, everyone is welcome to participate. Moms, dads, and big kids are invited to join the fun in this noncompetitive 1-mile run/walk through Legoland California! Click here for more information.
Travel and Adventure Show
January 13 – 14
At the Travel & Adventure Show, the #1 series of travel shows in the U.S., you never know who you are going to meet. Get expert packing tips, technology trends and budget travel hacks on the Savvy Traveler Theater. Talk to local destination experts who have the inside knowledge of where to go and what to do at the Destination Theater. Click here for more information.
San Diego Multi-Cultural Festival
January 13th
The San Diego Alpha Foundation Inc. is excited to host the Multi-Cultural Festival in partnership with the Port of San Diego, Commission for Arts and Culture, the World Beat Cultural Center, Pazazz and many other Community organizations. The Festival is free and open to the public and is being held at San Diego's beautiful downtown waterfront park at the corner of Harbor Drive and Pacific Highway. Click here for more information.
Monster Jam
January 20th
Monster Jam is one of the world's largest and most famous monster truck tour featuring some of the biggest names in monster trucks. Don't miss this chance to see the carnage unfold! Click here for more information.
San Diego Restaurant Week
January 21 – 28
The 14th Annual San Diego Restaurant Week returns Sunday, January 21st through Sunday, January 28th with a FEAST for the senses at over 180 participating restaurants. Dine deliciously at restaurants offering prix-fixe menu options throughout San Diego County. This foodie-favorited week is the perfect time to take a culinary tour throughout the diverse and thriving food culture of San Diego. Click here for more information.
Farmers Insurance Open
January 25 – 28
Mark your calendars now, because one of San Diego's biggest events of the year returns January 25-28, 2018, at the iconic Torrey Pines Golf Course. Come enjoy everything San Diego has to offer! The ocean views, the world-class competition, and fan attractions including, The Michelob Ultra Zone, Fan Village, autograph areas, a variety of locally themed concession stands and much more! Click here for more information.
Big Bay Boat Show
January 25 – 28
Welcome to the 2018 San Diego Sunroad Boat Show. If you are a boater, don't miss this once a year event! We'll have the brands and companies you've come to know and love, as well as new marine services and products, free boating seminars, boat rides, libations and more. Click here for information.
Shen Yun
February 2 – 4
After sold-out shows last season, Shen Yun is back with a brand-new production. Embark on a wondrous journey through China's 5,000 years of divine culture. Watch glorious legends and heavenly realms spring to life. See dazzling costumes and powerful flips fill the stage with color and energy. Let the orchestra's exquisite melodies uplift your spirit, and the dynamic animated backdrops transport you to another world. An inspiring experience not to miss. For more information click here.
Cardiff Kook Run
February 4th
The Cardiff Kook Run 5K, 10K and Costume Contest is a celebration of one of the greatest community in the most amazing town on the map. The course starts under the world famous "Encinitas" sign on historic HWY 101 in beautiful Encinitas, California. This scenic loop passes by the famous "Cardiff Kook" statue, rises above some of the most popular surf breaks in the world and heads down to Cardiff. Click here for more information.
Mermaid Half Marathon
February 10th
Mermaid returns to San Diego's Mission Bay for a scenic women's 5k, 10k, and half marathon. Come out and experience the joy of crossing the finish line. The course features beautiful Bay views and the majority of the course takes place on closed roads. The flat course is ideal for both runners and walkers. Click here for more information.
Gaslamp Quarter Mardi Gras
February 13th
Experience Gaslamp Mardi Gras, Southern California's most beloved block party, parade and celebration headlined by Warren G! The famous Fifth Avenue in downtown SD will be transformed into a gigantic street party filled with 20,000 international revelers, 3 mega stages, DJs, dancing, live entertainment and an epic parade with fabulous floats and tossing of beads, beads and more beads! Click here for more information.
San Diego Tet Festival
February 16 – 18
The San Diego Tet Festival features Lion Dancing, Music, Rides, and More! Join us in welcoming the Year of the Dog as we Spring To New Horizons! This prosperous Year of the Dog will be celebrated at Mira Mesa Community Recreation Park. Click here for more information.
San Diego Winter Brew Fest
February 24th
This special 1-day only fest will celebrate craft beverages from California and beyond and features live local music, food, and other vendors. Get first taste of great brews by getting in an hour early with this exclusive, limited admittance VIP power hour including a special beer and Venissimo cheese sampling. Click here for more information.
American Ninja Warrior Experience
March 3 – 4
Test your skills and race on an authentic American Ninja Warrior course and watch the very best American Ninja Warriors from the show compete live! Do you have what it takes? You've seen the show, now experience the course for yourself! Click here for more information.
EC Craft Beer Invitational
March 4th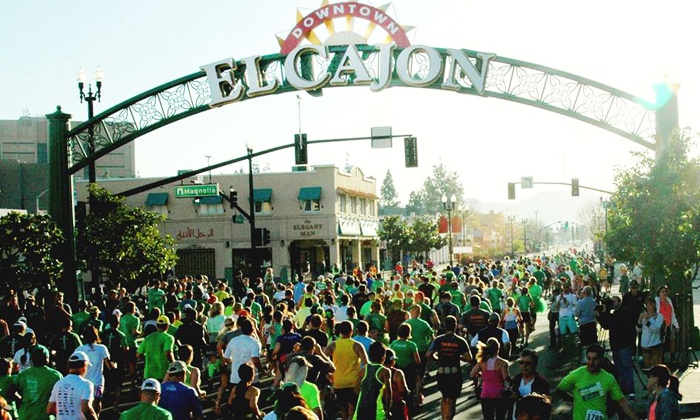 Calling all enthusiasts and explorers of the Craft Beer Scene! The EC Craft Beer Invitational invites you to join us and celebrate the finest craft beers from breweries nationwide along with food trucks, live music, entertainment, and great company! Click here for more information.
Saint Patrick's Day Half Marathon
March 4th
Join in the fun at the St. Patrick's Day half marathon and 5k, the Green Mile for kids and adults with special needs in Downtown El Cajon. The ultimate St. Patrick's Day Competition and Fun! Click here for more information.
Shamrock San Diego
March 17th
San Diego shamROCK is back to celebrate its 24th year! Over 20,000 attendees from across the U.S. flock to the Gaslamp Quarter and East Village each year to partake in a celebration so grand that it will leave you wondering what side of the pond you're on. Grab your friends, don your green attire, and head to the Gaslamp Quarter this St. Patrick's Day. Click here for more information.
Mission Valley Craft Beer & Food Festival
March 31st
You don't pay for food at MVCBF. It's a festival! You cannot be festive if you're not feasting, and let me tell you what, we're getting festive. Allows entrance 90 minutes early, a MVCBF Brew Caddy (a lanyard that holds your beer while you stuff your pie hole with awesome food) and exclusive specialty beer samples. Click here for more information.